It is important to make sure that your roof top tent is safe and secure. Here are some things to consider when checking if a tent fits your car.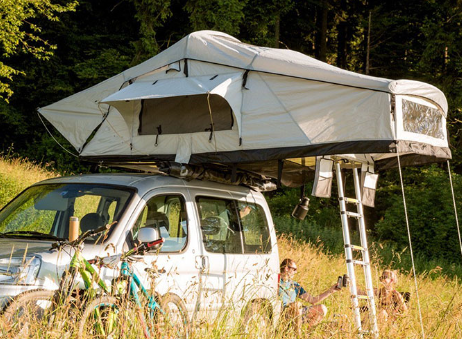 Load-bearing
Most rooftop tents weigh more than 50kg, and that's before you add the weight of the human body with some equipment during night camping, so you need to make sure the roof rack is secure enough. If you don't already have a roof rack, then you will need to buy roof racks according to your tent and load weight.
Dynamic Load Capacity This is the amount of weight your car can hold while driving. This is the maximum weight capacity specified by your vehicle's manufacturer. It is essentially the load-bearing capacity required to support a roof tent.
Static load capacity is the weight your car can carry when parked, tent set up and ladder added. Because of the extra support added by the ladder, the static load capacity is usually three times the dynamic load capacity. This tells you the amount of weight needed to support the tent and the people sleeping in it.
Distance requirements
There are aluminum bars on the bottom of the tent to secure the tent to the roof of your vehicle. These bars should not be too wide; check the tent manual for recommended distance requirements to make sure it fits your particular vehicle.
Roof rack compatibility
Check the owner's manual to make sure your roof rack is perfectly compatible with the roof tent (some roof racks are not compatible with mounting a roof tent).
If your vehicle is small, or if you simply don't know the size of your roof, the tent specifications you need are not always easy to find. There is no need to worry about this, we offer a customization service where you can contact us to get accurate roof information to facilitate us to customize a tent for your vehicle.
Roof Types
Roof tents are available for all types of roofs except for exposed roofs without rails or railings, which work fine for cars with sunroofs but not glass roofs.
Are you interested in learning more about rooftop tents for sale and how they can benefit you? Contact us today to secure an expert consultation!